The Tempo 2020/Uniden 2020 users group has indicated a need for original reproduction sprockets to replace the cracked pre-selector and band switch sprockets in their Tempo 2020 transceivers. I have been supplying reproduction sprockets for the Kenwood Hybrid series of transceivers for a few years and the Tempo sprockets are similar in design and vintage. They appear to be made by the same Japanese manufacturer and have the same failure problems as they age. They crack and are very difficult to repair. I am currently reproducing the sprockets for the Tempo 2020 transceivers and am making them available on this site. These reproduction 3D printed sprockets are very near the original Tempo sprockets in color and shape. Only the material has changed. The material is a strong, stable, proven ABS material. If you are looking for replacement sprockets to fit your Tempo 2020 that are as near the original as possible they are now available. Below are the mechanical properties of the sprocket material. The Brass inserts are made from C360 free machining brass.
The reproduction Tempo 2020, 13 tooth sprockets are 3D printed in a tough ABS material with good mechanical properties for use in the Hybrid type transceivers. The brass hub insert on each sprocket has two 4-40 cone point set screws that require a 0.050 inch hex wrench to secure them to the 6 mm Tempo shafts. This ABS material will easily outlast the usefulness of the original nylon sprockets. The reproduction sprockets fit the original pitch chain drive system so there is no need to change or modify any other components in the chain drive system. The reproduction sprockets are sold in a set of (8) eight sprockets including one idler sprocket (with no set screws). Unfortunately, with the original sprockets, it isn't if they fail it's when they fail.

Five original Tempo 2020 cracked sprockets A set of eight reproduction Tempo 2020 ABS sprockets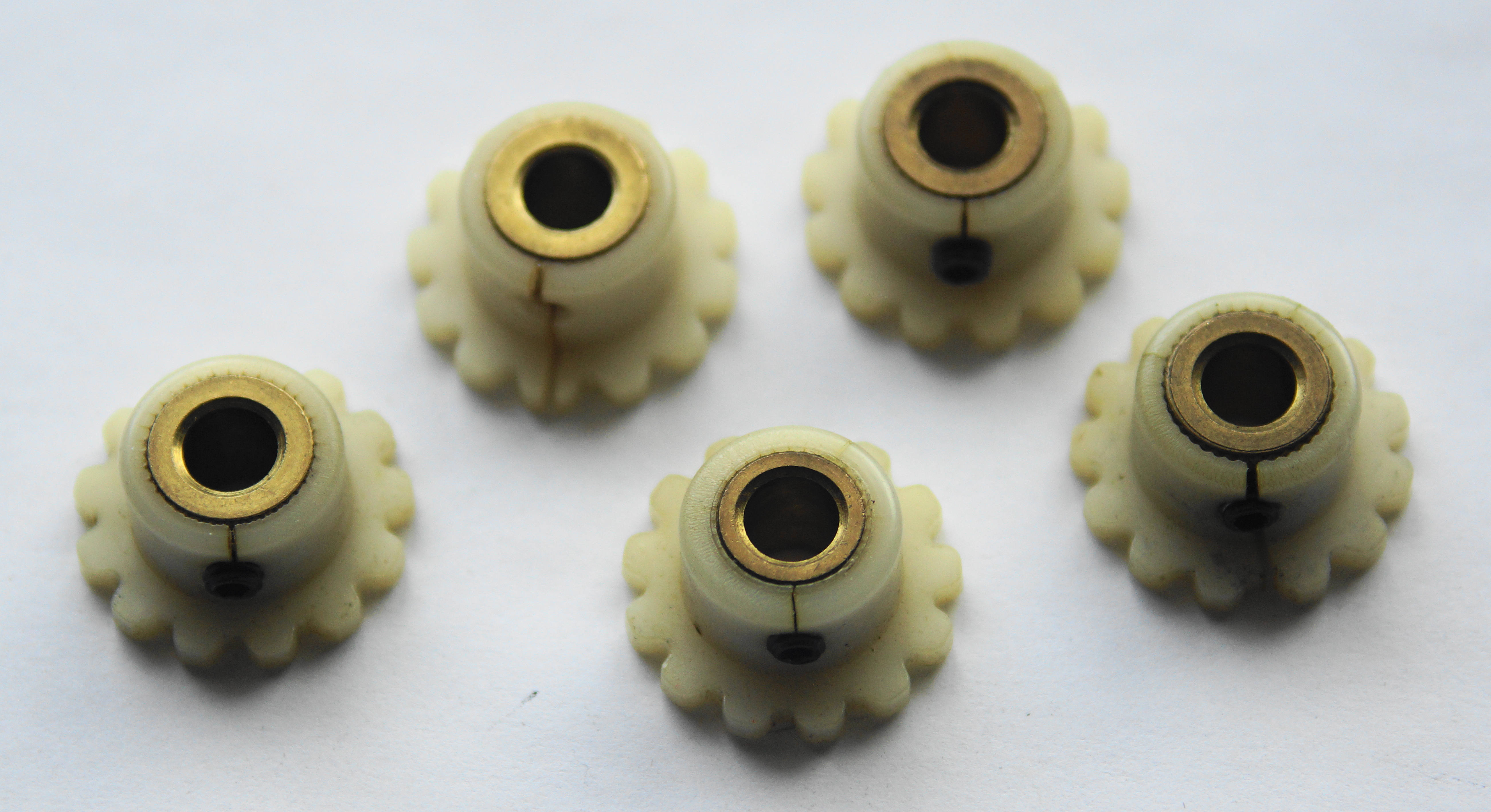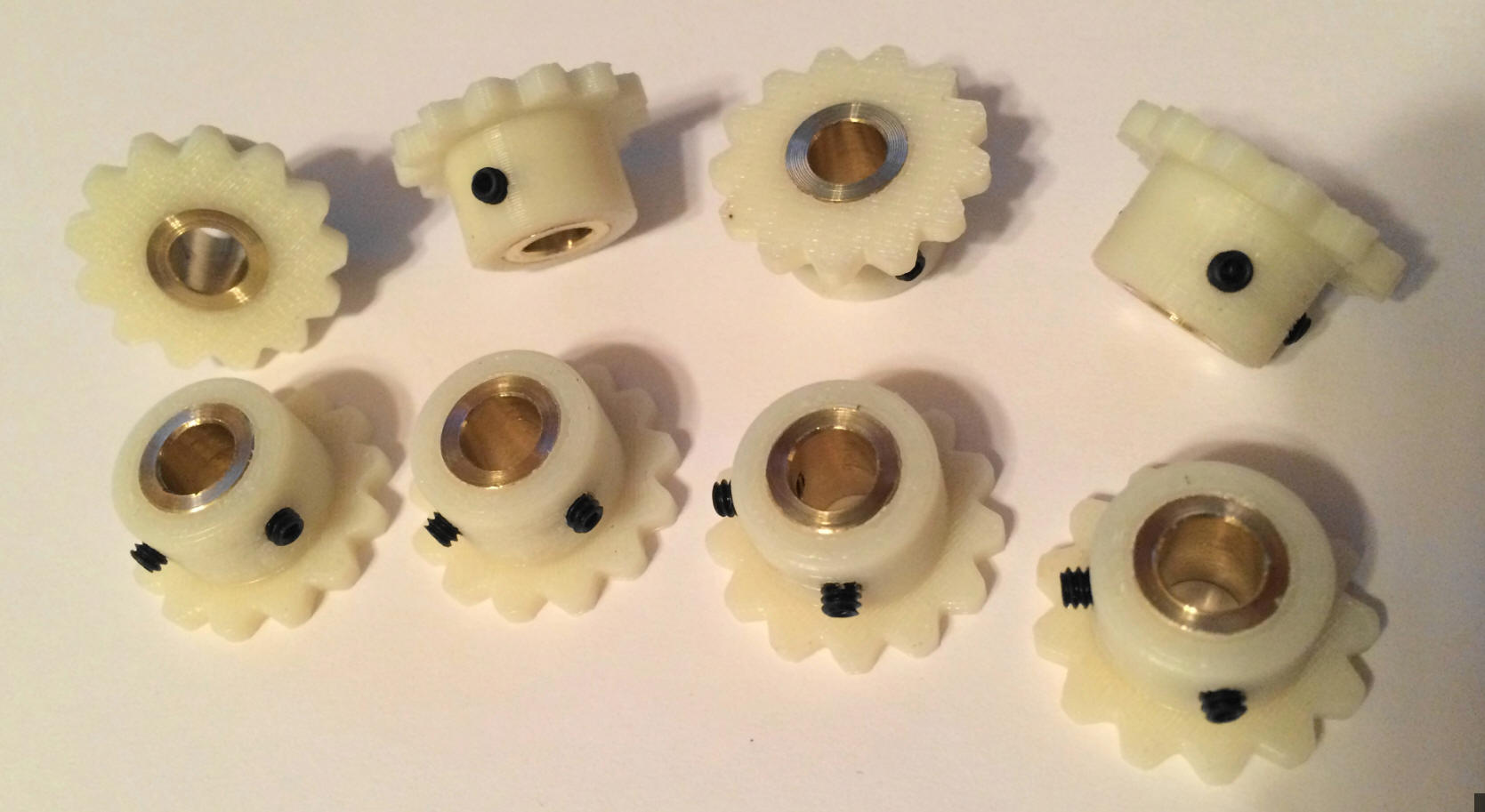 Price includes: Seven reproduction sprockets, one idler sprocket, shipping and handling.
International shipping add $14.00
INSTALLATION INSTRUCTIONS BY N4PL (click here)
Solid Model drawing of four reproduction Tempo 2020 sprockets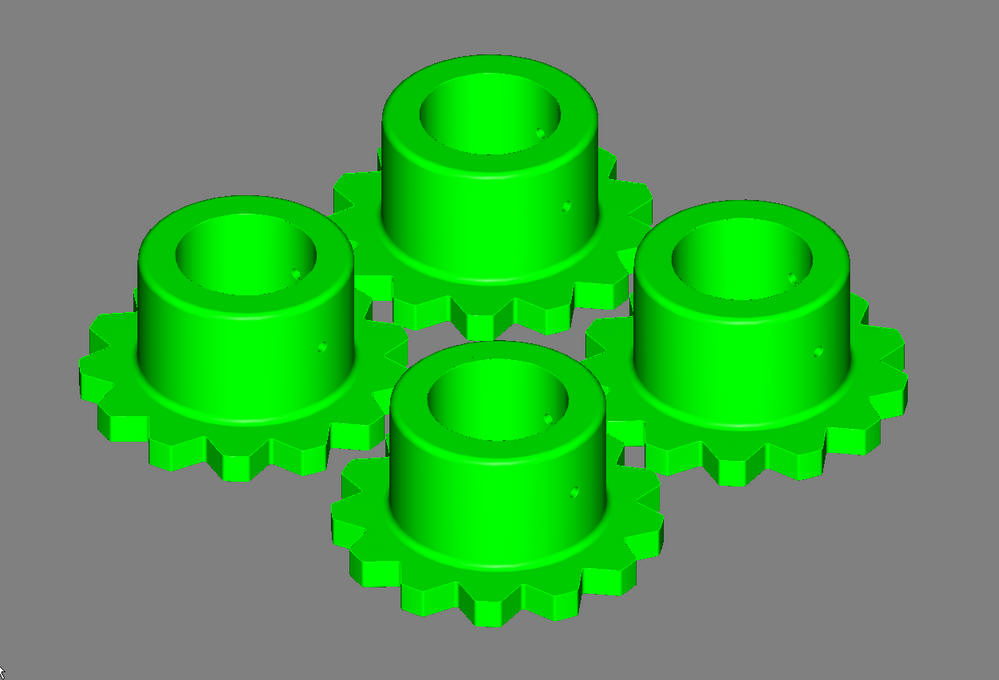 Pictures of installed retrofit NR6C sprockets in a Tempo 2020 Transceiver (below)
There is no need to change any other components in the original chain drive system.
(Left - original cracked sprockets - Right - the reproduction, brass insert, NR6C sprockets)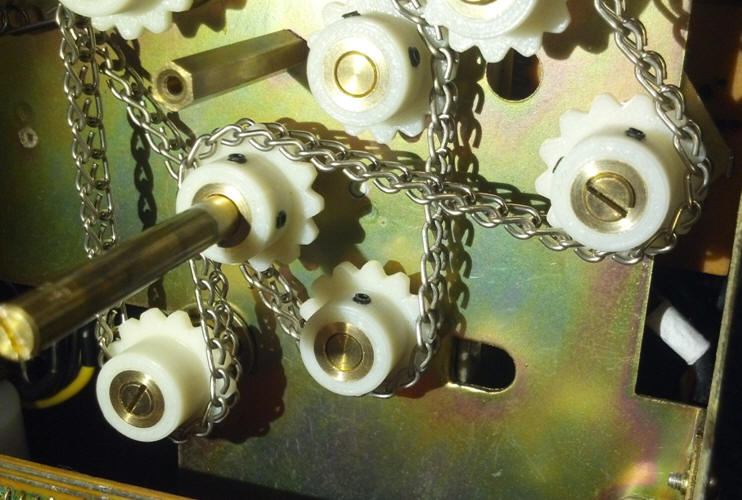 All 8 retrofit sprockets are installed on the Tempo 2020 with the original chain.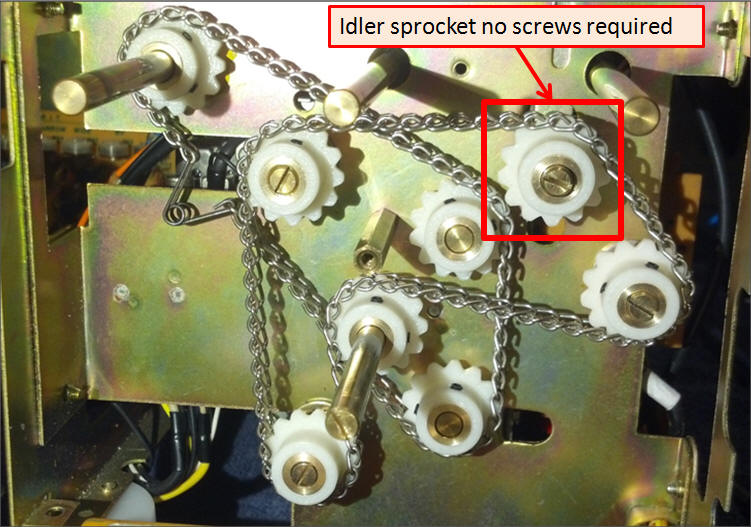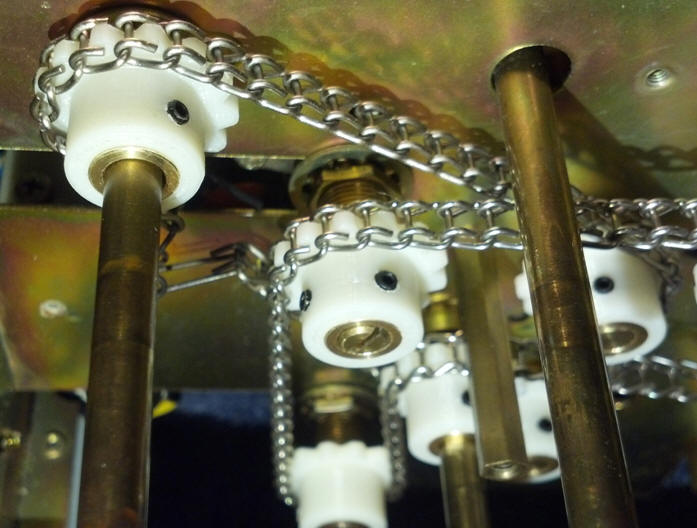 Prototype installation and Photos courtesy of N4PL
Contact information - NR6C@roadrunner.com